Award winning contemporary folk artist Sue Prince lives on a Peak District organic dairy farm. In 2004, she visited Southern Sweden and having painted and produced narrative art work all her life, she became inspired by an almost extinct form of ancient Swedish painting. All the different strands of her life came together in this sort of organic art work. She was instrumental in the revival of this form in Unnaryd, Sweden.
Her works are narrative and communicative, the words being as important as the images. Sue is fascinated by folk art as it exposes us all as humans, who haven't changed through time. Swedish Bonad painting echoes folk art through the ages from Egyptian tomb paintings to the Bayeaux Tapestry.
Sue's folk art paintings are created on cotton canvas or linen and real gesso (chalk and rabbit skin glue) or acrylic gesso, with a very limited palate of natural earth pigments and indigo. She wants to celebrate rural life and to express modern stories and issues, telling stories of people and their places. She grinds the pigments and uses local eggs to create works with integrity. She strives to make her work as natural as possible.
Sue had work in the 2014 Serco Prize for Illustration Exhibition at the London Transport Museum, Covent Garden and she is the Winner of the Grand Prix and purchase award in the 16th Biennale of Naive Art in Serbia. Her work is also in public galleries in Serbia, Sweden and Slovenia as well as many private collections in England.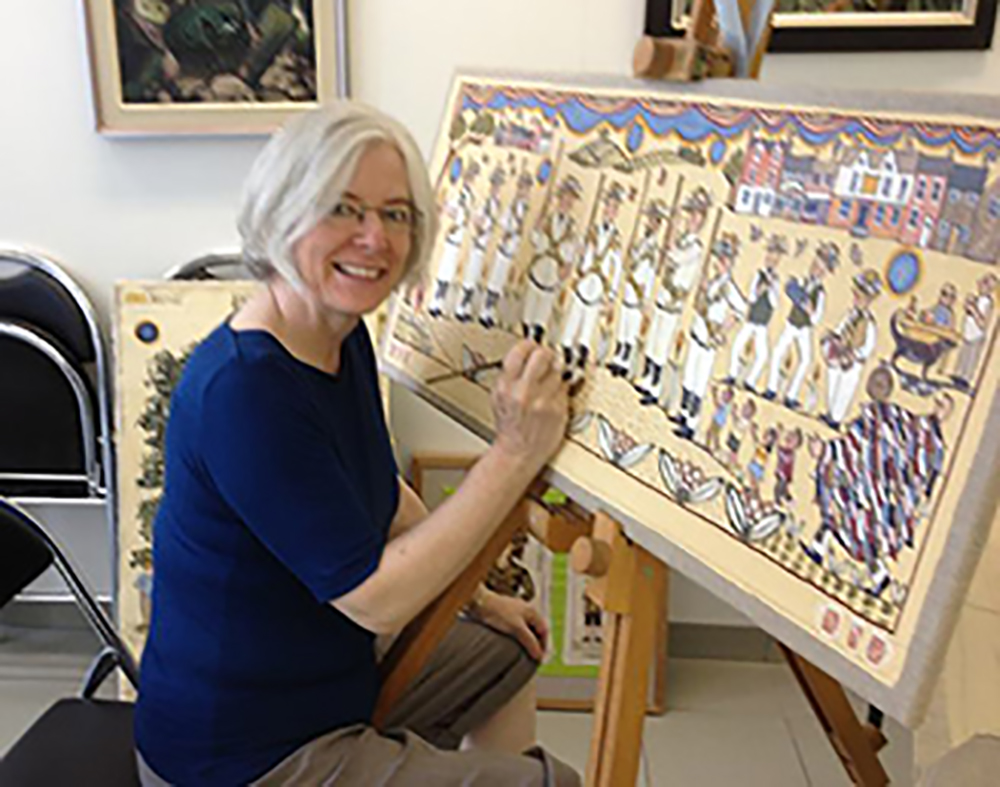 Sue worked as an illustrator for many years before discovering her voice in Sweden. She illustrated books for children with special needs for 25 years, and many other books and projects through her company started on 18th June 1998; Beechenhill Artworks Ltd, she still trades through this company.
Sue specialises in community folk art projects. On 26th January 2020 Sue appeared on BBC Countryfile preparing her community painting for Bamford in the Peak District National Park.
Sue was awarded an OBE in 2005 for her work with farming and tourism in the Midlands.

I am a rural artist, working at Beechenhill Farm, my family's organic beef farm, in the beautiful Peak District National Park in the centre of rural England. I belong to Peak District Artisans who celebrate individual creativity and collective excellence.
I believe in:
Integrity – using skill and pure materials, true to the tradition

Honesty – listening hard and telling the stories I'm told

Respect – acknowledging the sources of my inspiration and knowledge

Quality – the best materials, linens and frames

Service – the best possible customer experience

Sustainability – reducing my impact on the environment
The Isolation Chronicle prints (mounted 30 x 30 cm) are for sale, find them in the Isolation Chronicles section of her website.
Sue's record of the Covid-19 lockdown on her organic farm in the Peak District National Park. This started on 20th March 2020 when the UK Government ordered a shut down of all movement except essential shopping and travel, key workers and one exercise session per day in an effort to stop the spread of the Corona virus Covid-19. The record stopped on 15th June when meetings in gardens were allowed.
Everyday since then she produced a small 15 x 15 cm egg tempera painting in a Khadi paper notebooks. Khadi paper is made in India from cotton rags, so is similar to that which replaced linen in Sweden in the mid 1800s in Bonad painting. These images were shared daily on Instagram, Facebook and Twitter at @Sueprinceartist.
There are now two Isolation Chronicles books!
You can keep in touch on social media @sueprinceartist or sign up to her newsletter #Keepsafe.
Community Folk Art Projects
Bamford Community Folk Art
In 2020 Bamford Community Arts and Crafts commissioned Sue to create a four panel community folk art about the history of this historic and lively village. The public painting took place over two weekends in March 2020, just before coronavirus lockdown. 208 people took part. The initial creation was covered by BBC Countryfile who filmed Sue working and the community in Bamford in January 2020.
Sir Gawain and the Green Knight and Leek
In 2018 a community group in Leek, inspired by this medieval poem, commissioned Sue to create a four panel community folk art. It was funded through Crowdfunding.
Alstonefield Ann Green Festival
In 2018, Sue led a community folk art project in the Staffordshire Village of Alstonefield, celebrating St Peter's Church. Ann Green was buried here in 1518 and has the oldest legible gravestone in the country.
Ashbourne Treasures
In 2017 Sue led a community folk art project for Ashbourne Treasures, a summer long celebration of all the historic artefacts associated with Ashbourne. Over the three days of the Easter weekend Ashbourne Town Hall became an exhibition and artist's studio for over 170 Ashbourne residents who took part in the creation of the four-panel History of Ashbourne. Full sized prints are now displayed in several prominent places in the town.
Odensjo Heritage Park, Sweden
The small Swedish village of Odensjo was given a huge old traditional barn, to be moved to their Heritage Park. This community folk art tells the story of the clearing, dismantling, transportation, and rebuilding of the barn by the community.
The Story of Ebbe Skamelsson
The Viking Saga of Ebbe Skamelsson is very important to the Swedish village of Unnaryd. This community folk art was created in the Bonad Museum, in the Heritage Park by many members of the community.