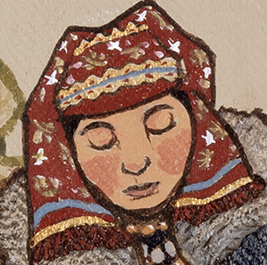 Care for Ukraine, is a tender folk art image of love, care and protection in the face of war. My original egg tempera painting has now sold and all the profit is going to support Ukrainian people.
Like everyone, I was shocked and distressed by Russia's horrific attack on Ukraine.  I'm also moved and amazed at the fortitude of the Ukrainian people.  They are so brave protecting their families and fighting for their country.  My heart breaks for them. This is a fundraising painting for Ukraine, and this is the story behind the painting.
I was working on a commission for a painting in February and March 2022 just as the Russian conflict started and found myself unable to continue to work as the daily news stories told us of bombing.  I worried about families sheltering in cellars and women and children fleeing, leaving fathers and brothers to fight.
My head was full of this image, of Mother Ukraine protecting the young and old, while soldiers face the fight.  I use my home-produced egg tempera paints (egg yolk and natural pigments) and I paint on beautifully textured linen in the tradition I discovered in Sweden in 2004.  When it's finished I sew the painting to a bleached linen background.
As a folk artist I'm interested in traditional dress.  So the woman's headdress and clothing are inspired by Ukrainian national costume.  The children and old people are embraced in the safety of her arms and cloak as well as a beloved dog and a cat.
I have painted the wheat fields behind her to signify Ukraine's rich fertile soils, supplying us all with grain.  Her traditional fur lined cloak is decorated with the iconic sunflowers and wheat stalks.

Behind her I painted the backs of the soldiers in camouflage.  The blue and yellow sky echoes the Ukrainian flag.

The words: "The truth doesn't drown in the water and doesn't burn in the fire" is a Ukrainian proverb.  It possibly stems from witch trials in the far distant past, however, for me these words reflect the current situation.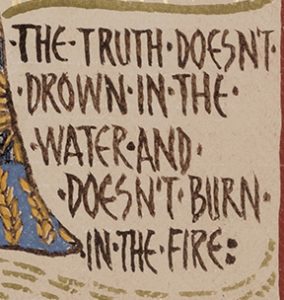 So far sales of prints and cards of this fundraising painting for Ukraine have raised over £700 which has been sent to Disasters Emergency Committee and Unicef
I've now sold the original painting and as a result, another £400 will be sent to support Ukrainian people.